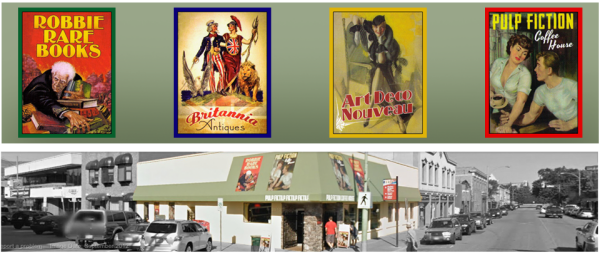 Max Sloan is the owner of 
Pulp Fiction Coffee Shop and Robbie Rare Books, 
being in the oil business for 45 years, he had the chance to travel around the world. Whenever he travels, he never fails to visit the book stores in any city or town he go. This led for him to fill up a warehouse-sized collection of pulp fiction books, book ends and some other amazing antiques! Now that's unbeatable! This collection is now housed inside the Pulp Fiction Coffee Shop and Robbie Rare Books, so prepare to be overwhelmed when you come here for a blast from the past type of environment.
In this store, y
ou will often find students working on homework, or individuals on their laptops typing furiously. If you wonder the mysterious little back rooms you will find crazy-covered books, glowing Art-Deco globes, old clocks and colour copies of ready-to-be-framed jacket covers. The cappuccino is stellar, but more than that, meeting Max Sloan's vast collection of art, antiques and rare books will make anyone's day.
​